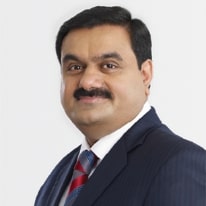 Gautam Adani
Chairman, Adani Group
The Webster definition of resilience is "the capability of a strained body to recover its size and shape after deformation caused especially by compressive stress". It's hard to believe that it was less than 3 months ago, on 11th March 2020 that the World Health Organization declared the outbreak of COVID-19 as a pandemic, meaning COVID-19 has spread worldwide. If there ever has been a time when the need for global resilience has been critical, it is now.
The Power to Overcome:
At times like this one looks for inspiration. In this context Wayne Muller, a well-known author, writes that for thousands of years humankind has suffered famine, war, plague, hunger, and countless injustices; it has experienced numberless births and deaths. Each community of people has had to find some way to speak about what sustained them or brought them grace—even in the midst of terrible sorrow. We have struggled to name this human trait, the universal force that makes the grass improbably push its way through concrete, the force that turns the earth, the energy that we seem to possess and blesses all life, the essential presence in our deepest nature that can never be spoken of with perfect accuracy but yet make us what we are. History is one big story of human overcoming. It's what we are born to do.
Decisive Governance:
What we must realize is that there are no absolute right or wrong ideas. What is required during an unprecedented, hard to model, crisis like Covid-19, is a Government that is willing to make decisions based on best available information at a given point of time and constantly adapting as new information becomes available. For this, the Indian Government and bureaucracy must be complimented. Countries with greater resources than ours have struggled and while our battle with the virus is far from over, I have no hesitation in stating that had the decisions that got made been delayed we could have been facing an unmitigated disaster that would not just impact India but have global ramifications. Yes, business has suffered immensely, lives and jobs have been lost, and the migrant worker crisis saddened the entire nation, but the consequences of the unknown alternates would be far grimmer. What the leaders of our nation, the doctors, the healthcare workers, the police, the army, the small street side vendors, and the citizens have done to support each other is truly what defines India and its resiliency. Add to this the fact that the Government is are now able to do direct benefits transfer as a result of the integrated approach it has built through the Jan Dhan, Aadhaar and Mobile linking systems and we start seeing the benefits of a Government that had the vision to put in place the infrastructure we need to be able to handle a crisis.
The Possibilities:
Sitting where we are today, I can say that history is in process of being scripted. I will be the first to admit that I have no way of predicting the short or mid-term possible economic outcomes as a result of Covid-19. However, there cannot be any denying the fact that India over the next several decades will be a market continuously on the up and one that simply cannot be ignored. It will be one of the world's top consumption centers, manufacturing and service hubs and a beacon of stable democratic governance. If there was a time to make a bet on India, there may not be a better time than now. What I can predict is that on the other side of this crisis will emerge massive new opportunities, will emerge great new leaders, will emerge terrific businesses, and will emerge a few stronger nations. Those that succeed will be the ones that understand that resilience is built on the other side of the tunnel of crisis and we are already getting ready for this.
Resilient Group Performance
I am pleased to report that each one of our six publicly traded companies has performed well even as we started to confront the trying circumstances following the first few weeks of 2020. While we may have to do need-based course correction in our strategies in the wake of the challenge that we are facing, the roadmap remains clear. Our businesses are closely aligned to the lifeline of the economy, providing essential services to enhance the quality of life of citizens and addressing critical national infrastructure priorities. We look at our Group companies as individual growth drivers that complement each other's strengths.
Any shock to a system always helps drive home some key points and what the Indian businesses have learnt over the past few years and most certainly post Covid 19 is the value of an optimal and perhaps for some sectors a conservative capital structure as well as the criticality to have systematic risk mitigation plans in place. Both optimal capital structures, and risk mitigation is a part of the maturing of the business philosophies as they grow in size and lays the foundation for stability as well as consistent value creation.
At the Group level, our focus is on optimising capital utilisation, redesigning the organisational structure to minimise risk in our businesses and funding operations in phases. I am happy to share that during the year, the Group has been able to bring strategic global equity partners in Adani Gas, Adani Green Energy Ltd and Adani Mumbai Electricity Ltd. The total investment is USD 1.6 bn; and will help drive future growth of our businesses. It is also pertinent to mention that AEML (part of Adani Transmission) recently completed an investment grade, USD 1 billion bond issuance, the first by a private integrated utility from India. The issue generated significant interest from international investors and was oversubscribed by 5.9 times. I must also mention here that APSEZ raised $750 million by selling overseas bonds, the proceeds from which would be used for fund expansion and further reduce the cost of debt and progressively further deleverage the balance sheet. In the preceding 12 months, the Group has successfully placed seven bonds in the international markets, totaling to 4.26 bn USD.
Adani Power Continues to Execute on its Strategy:
Over the last decade, India's power demand has grown at an average annual rate of 4.5%, which is slower than its GDP growth rate. This dichotomy is explained by the preponderance of the service sector led growth and the fact that vast swathes of the population were not connected to power grids. On the other hand, energy and peak deficits, which were unsustainably high at 10% and 12.7% respectively in FY 2009-10 have come down to 0.5% and 0.7% respectively in FY 2019-20. The removal of this hurdle, which held back India's economic growth and the well-being of its people for decades, was possible only with the contribution of the private sector in generation capacity growth, aided by various supportive policies of the Government and we have had the opportunity to have played a significant role as the largest private power producer in the country.
While we are looking at disruption to economic activity caused by the impact of an elongated lockdown in the post COVID-19 world, the realisation that our nation must grasp an emerging, one time opportunity to strengthen its industrial base by increasing its self-reliance from domestic manufacturing as well as by attracting investments into export-oriented, high value-added sectors could be a potential game changer in accelerating the demand for power.
Economic Measures - A Significant Opportunity:
Various economic reforms, which have been announced recently to get the economy jumpstarted, makes me optimistic about the possibilities. I am quite confident that with efficient implementation and appropriate incentives that have been announced we can not only get the economy back on the growth path, but also become a major centre for exports of manufactured goods globally. I also expect that this could revitalize the power demand and set the stage to begin the next phase of investment growth in the sector.
I continue to remain steadfast in my belief that base load power, at least for several years to come, will depend on fossil fuels. The renewable energy transition continues to accelerate, and the focus should be on doing this as cleanly as possible given the technologies that are now available. India is the only major nation that is ahead of its commitments made under COP 21 at Paris in 2015. As a growing major economy, it needs to utilize all sources of energy to reach its development goals. India is expected to achieve two of the three commitments made under the Paris Agreement, viz. reducing GHG emission intensity, increasing penetration of renewables, and creating an additional carbon sink in the form of green cover, a full decade before the 2030 deadline.
As one of the fastest growing renewable energy groups in the world, we fully recognize that the intermittency of solar and wind generation preclude their displacing thermal power as the mainstay of India's demand-driven power needs. Coal-based electricity is needed to provide both the base load capacity as well as spinning reserves for greater integration of renewables, till affordable and reliable storage technologies emerge.
Therefore, it is not a trade off as much as it is giving an entire segment of our population that needs affordable power a fair chance to be better integrated into the society. We have been at the forefront of the Adani Group's efforts to provide the motive force of electricity to make this happen as well as help drive India's economic growth engine. We have also strengthened our competitive position by implementing expansion through both organic and inorganic means. Our efforts to improve regulatory certainty of our operations and enhance visibility of future earnings are starting to bring fruit, and we have started receiving long awaited regulatory payments. In addition, we have continued to put in place world class capabilities as well as monitoring facilities that ensure our power plants are world class in terms of emissions as well as efficiencies. While we have had challenges, over the next two years, we expect to fully realize the outcome of these efforts and I am confident of seeing us transform into a financially stable, and profitable organisation.
Group's Sustainability Journey:
Our journey towards sustainability accelerated over the past 12 months. We are now leading the clean energy transformation taking place not just in India but globally, and our Group is building one of the largest integrated energy portfolios. Our vision is to become the world's largest solar power company by FY25, and the largest renewable power company by FY30. I must mention here that our Group and TOTAL signed definitive agreements to deepen our existing partnership and commitment for developing multi-energy offerings for the Indian energy market. We are fully committed to supporting our nation in diversifying its energy mix through partnerships in natural gas and solar energy.
Growth with Goodness
We, at the Adani Parivar, are fighting the Covid-19 battle unitedly. Our Foundation has contributed Rs. 100 crore to the Prime Minister's Citizen Assistance and Relief in Emergency Situations Fund (PM CARES Fund). I am equally grateful to our workforce in India for contributing Rs. 4 crore for the battle against COVID-19. It is because of the solidarity demonstrated by this workforce of over 17,000 people that our Foundation could add another Rs. 4 crore, collectively contributing another Rs. 8 crore towards COVID-19 relief projects in India. As a responsible corporate, we will continue to stand by the nation in various capacities in this hour of need. On that note, I must also take this opportunity to thank our teams for the following measures:
Adani Foundation contributed Rs. 5 crore to the Gujarat CM-Relief Fund and Rs. 1 crore to the Maharashtra CM Relief Fund; we have also contributed to Kattupalli District Collector COVID-19 Fund and the Bhadra District Administration.
The Foundation is also contributing to the CM-Relief Funds of many other states such as Kerala, Jharkhand, Andhra Pradesh.
Women cooperatives aided by Adani Saksham produced more than 1.2 lakh masks to help economically disadvantaged sections of the population.
Gujarat Adani Institute of Medical Sciences (GAIMS) is the only hospital equipped for handling COVID-19 cases in Kutch, India's largest district.
In times such as this the spirit and compassion of our people reinstates my belief in our core philosophy of Growth with Goodness. Let all of us contribute to help our nation rise above this crisis. It may take time but there is ample optimism to show that it is possible.
Together, we will stay resilient and hopeful in these testing times.